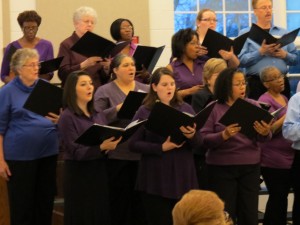 Choir – Our choir director, Tim, says he can work with just about any voice, and you don't need to audition to make the cut. Our choir rehearses on Sunday mornings after worship (11:30ish) and sings during worship 1-2x each month. They are more than a choir, though – they are a ministry, heading out into the community to sing to shut-ins and those who could use a lift in their spirits. They also slip away to local dinner theaters and to hear other choirs sing.
Acorn Choir – Our children work with our director of Children's Ministry, Tai Courtemanche, to prepare music which they sing during worship that leaves a smile on everyone's faces and we are sure is pleasing to God! Rehearsals take place during Sunday School.
Music Ensemble – The newest addition to our Sunday services, playing for special occasions, our music ensemble is made up of volunteers who play a variety of instruments from violin to flute, clarinet, oboe and recorder. They rehearse at a time determined based upon availability, and welcome newcomers.